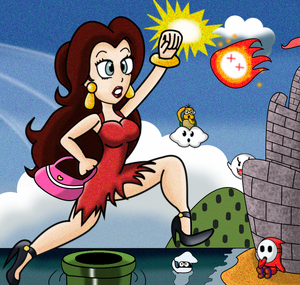 Pauline (also known as Damsel, Lady, Lady in Red) is the First Lady of Nintendo.  She is a playable character in SMBX, marking this as the first game to play as Pauline!  Her moveset is exactly as Link's (as she is essentially a re-skin), but with different animations.  She uses a classic Donkey Kong Hammer to attack, and can bash Goombas from above with her Stiletto heel!
She wears her iconic torn red dress, black stiletto heels, wavy brown hair, and gold earrings+bracelet!
No, she is fucking not. Why doesn't the guy who wrote this crap release that sheet so we can use it, and stop shedding lies.
Ability and Gameplay Styles
Edit
ITS JUST A RETEXTURE OF FUCKING LINK!
Power-Up's
Edit
Every thing that link does retard
Download
Edit
External link
Edit
Ad blocker interference detected!
Wikia is a free-to-use site that makes money from advertising. We have a modified experience for viewers using ad blockers

Wikia is not accessible if you've made further modifications. Remove the custom ad blocker rule(s) and the page will load as expected.